Meet Our Staff
pastor@atlantafirstumc.org
jasminesmothers.org
Jasmine Rose Smothers currently serves as the Lead Pastor of the historic Atlanta First United Methodist Church. When she was appointed to Atlanta First in 2016, she became the first female, the first person of color, and the youngest leader in the congregation's 175-year history. Jasmine's love for the urban center of the City of Atlanta; her dedication to inclusive church communities; and her call to help lead people to abundant life makes her appointment to Atlanta First a perfect fit! This year, Atlanta First UMC celebrates 175 years of ministry with the city of Atlanta. To celebrate, Pastor Jasmine is leading the church's development of the 360 Peachtree Street campus to better serve the community. The development project includes affordable and attainable housing, new space for two schools, and community services.
Previously, Rev. Jasmine served as Associate Director for Congregational Vitality through the Office of Connectional Ministries in the North Georgia Conference of the United Methodist Church. In this role, Rev. Jasmine partnered with congregational leaders to equip them for maximum effective ministry in church and community. Rev. Jasmine served as the primary staff resource for several ministry initiatives including working to increase the vitality of congregations; racial-ethnic ministries; and the development of young clergy leaders.
She has served the United Methodist Church as a board member of the United Methodist Commission on Religion and Race; the Ministry Study Commission; and several task forces on Ministry with Young People. Rev. Jasmine is a 2015-2016 Lewis Center for Church Leadership Community Fellow. Rev. Jasmine served as a member of the United Methodist Church's Commission on a Way Forward, currently serves as co-convener for UMCNext, and is a 2018 alum of LEAD Atlanta.
In March 2017, Rev. Jasmine was inducted into Morehouse College's prestigious Martin Luther King Jr Board of Preachers. Rev. Jasmine has been named one of the "12+ Preachers that the English Speaking World Needs Now" by Nevertheless She Preached.
Pastor Jasmine is co-author of the Washington Post best-selling book, Not Safe for Church: Ten Commandments for Reaching New Generations, with Dr. F. Douglas Powe. Her newest resource, Blank Slate: Write Your Own Rules for a 22nd-Century Church Movement, is a collaboration with Dr. Rodney T. Smothers and Rev. Lia McIntosh.
Rev. Jasmine is a native of Atlanta, GA. She is an amateur shutterbug, loves music and crafting, spending time with her family and friends, and traveling the globe. Jasmine is a Birkman Certified Consultant. She is a graduate of Spelman College (B.A., Political Science) and Emory University's Candler School of Theology (M.Div.).
Above all, Jasmine loves God, loves the Church, and is committed to inspire.create.encourage. to "equip the saints for the work of ministry" so that the world may know and be transformed through Christ!


Biography coming soon!


Mary was born and raised in Indiana, and has been a member of Atlanta First for 10 years. She began serving with the Safehouse Mission Team and then became the serve Team leader. Mary is on the Leadership Team, the worship Planning Committee, the Development Task Force, and the Congregational Care Team. She loves serving the Atlanta First congregation!


Zach Gaddis is an eclectic young entrepreneur who has partnered with CEOs, churches and Non-Profits to help tell their stories through visual/creative arts and administrative work. After spending nearly a decade working in PR and marketing for non-profits and startups, Zach knows what true relationship and service looks like. Growing up as a preachers son in the heart of Oklahoma City, Zach has the spirit, passion and focus of a man that pursues Jesus in every area of his life. He graduated from McPherson College with a BA in Music. Owning his own startup business, Zach brings a plethora of skillsets to Atlanta First United Methodist Church as Pastor Jasmines Executive Assistant.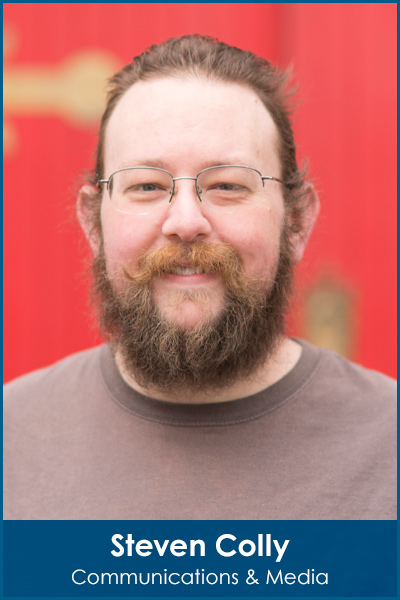 Steven Colly is the Media and Communications manager at Atlanta First. Among his many responsibilities are designing and maintaining the church website, producing the church's video ministry, designing printed materials like worship bulletins and banners, and maintaining the church's IT infrastructure.
Steven grew up in Saudi Arabia, where his father worked for Saudi Aramco. Steven is a third generation member of Atlanta First. He graduated in 2004 from Georgia Tech with a B. S. in Science, Technology and Culture. He was hired by Atlanta First in December of 2004, initially part time, to run the church website. His responsibilities have grown since then, becoming a full time employee in 2010.
Steven's hobbies include photography, astronomy, building Lego models, watching sci-fi shows with his dad, and playing World of Warcraft with his sister and her husband. He is the church's biggest fan of the Atlanta Braves. He likes to travel, going on a road trip with his parents once a year. Steven is a survivor of gastric cancer.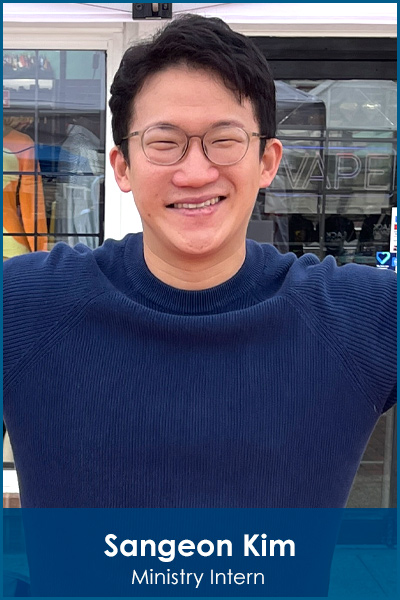 Meet Sangeon Kim, a church member and 2022-2023 Intern at Atlanta First UMC from Candler School of Theology. Sangeon is originally from South Korea and has a background in Wesleyan studies. He is pursing ordination as an elder in the United Methodist Church in North Georgia and currently serves as the president of the Candler Korean Student Association. He is a passionate fútbol fan and loves to sing. His favorite movies are directed by Bong Joon-ho, like Okja and Parasite. His favorite color is navy, favorite food is tuna, and favorite scripture is Matthew 6:33. Take time this season to introduce yourself to Sangeon if you have not done so already!


---