We Exist to engage With the City of Atlanta and Beyond
Atlanta First is more than just a place to worship, serve and grow together. We are also a family. Together we share the joys, sorrows, triumphs and tragedies of life. Through engaged fellowship we experience with one another the love that God wants us to have for Him and each other.
Get connected to engage: e-mail engage@atlantafirstumc.org if you have questions or suggestions for events, if you'd like more information on how to attend or help with events, or if you wish to join our Sunday Squad volunteers.


---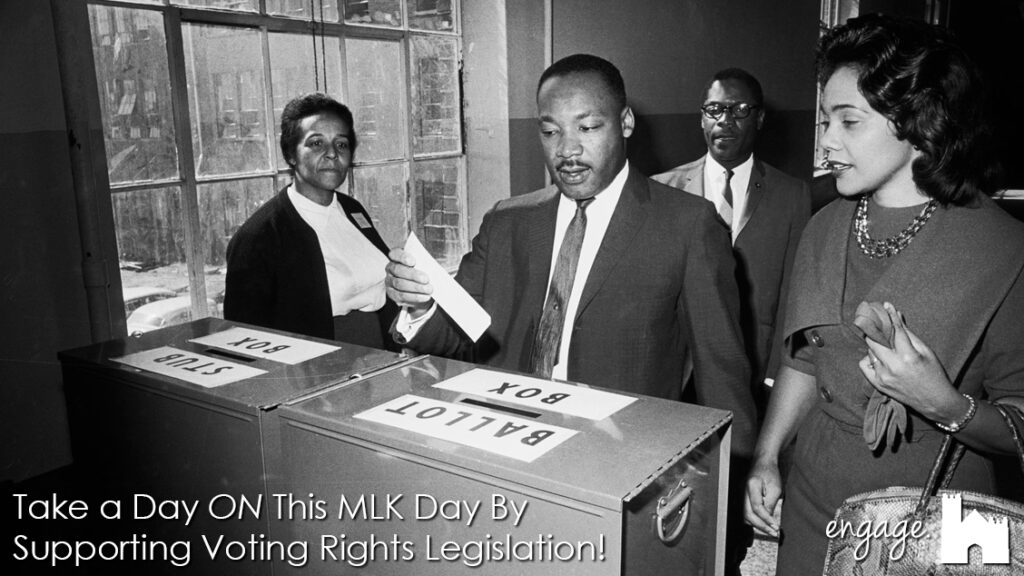 This Martin Luther King, Jr. Day, Jan. 17, 2022 let us join the King Center and their CEO Bernice King in the call to make "the holiday a real day on and not a day off, a time of engagement and action that equips and inspires all of us for work that is beyond that day."
This includes specifically at this junction advocacy around voting rights legislation, specifically two bills— the Freedom to Vote Act (S.2747) and the John Lewis Voting Rights Advancement Act (S.4) introduced in the U.S. Senate. Each of these bills would set basic federal guidelines that ensure voters are given ample time and means to exercise their right to vote. They would also provide greater protection to minorities who have been historically discriminated against by unjust voting laws and promote transparency in our electoral process.
You can take action today by contacting your senators (The UMC General Board of Church and Society has provided an email template here) and/or sharing on social media that "As a United Methodist, a person of faith, and a member of @atlantafirstumc, I affirm the right to vote for all adult citizens as a basic human right and strongly urge the senate to pass both the Freedom to Vote Act (S.2747) and the John Lewis Voting Rights Advancement Act (S.4).


---

When: To be announced.
Where: Our Facebook Page
Want another touch point with Atlanta First UMC for prayer, spiritual formation, updates on new and upcoming connection opportunities? Look no further. Jay Burns-Horton, our Director of Community Engagement, hosts a weekly check-in on our Facebook page as a way to continue fostering community in the city of Atlanta and beyond.