Dear Atlanta First Family,
The hymn writer said, "time is filled with swift transition." Those words have taken on a new meaning for your clergy and Leadership Team over the last day. The situation with the coronavirus (COVID-19) is unfolding quickly and we are working on your behalf to keep you and our neighbors safe and well.
At the request of our Resident Bishop, Sue Haupert-Johnson, worship services, small groups, meetings, Sunday School – really, any gathering of people hosted on United Methodist campuses in North Georgia, are to be cancelled or moved to electronic media. You can read Bishop Sue's message here: https://www.ngumc.org/newsdetail/message-from-bishop-sue-regarding-worship-services-13441842
Thusly, to love God and love our neighbors lavishly, the Atlanta First UMC campus is closing until, at least, the end of March. This is essential to keep vulnerable populations safe and curtail the spread of the virus.
Worship @AtlantaFirstUMC
Our 11:00 am worship service on Sundays will be livestreamed, podcasted and recorded for later viewing. Only essential worship staff will be allowed in the building. We will continue our worship series, "Radical Love," as we journey through the Lenten season.
You can participate in worship with any phone, tablet, or television that connects to the internet. You can find the directions here (www.AtlantaFirstUMC.org/live) or watch via our Facebook page or YouTube channel. Please e-mail info@atlantafirstumc.org if you need help understanding how to worship online. If you are tech savvy, please check with others and see if you can help them worship electronically.
It is critical that we continue giving and practicing generosity to God and people. Even though the building will not be open, the critical functions of the church will continue. In order to continue our worship.serve.grow.engage. ministries, your financial gifts are needed. You can mail checks (360 Peachtree Street, NE, Atlanta, GA 30308), use the Bill Pay function of your bank account to send a check, give online (www.AtlantaFirstUMC.org/give), or give via CashApp ($AtlantaFirstUMC). Please give often and generously so that we might continue to be faithful to God and our neighbors.
Sunday School and Small Groups
No Sunday School classes or small groups will gather at the church. Pastor Walter will continue to teach the "Reckless Love" series via Zoom each Sunday at 10:00 am. You can connect via telephone or video conference. You can connect by clicking on one of the following links:
Join Zoom Meeting in a Web Browser:
https://zoom.us/j/162002421
Meeting ID: 162 002 421

-or-

One Tap Mobile:
+16468769923,,162002421# US (New York)

-or-

Call in by Telephone:
+1 646-876-9923 US (New York)
Meeting ID: 162 002 421
Staff and Church Office Hours
The Church Staff will work remotely during regular office hours. You can reach them via e-mail or by calling 404-524-6614. When you leave a voice message, they will receive your message and will get back with you as soon as possible. You can also call the Pastoral Care phone line for any emergencies: 404-446-3781.
Atlanta First Day School (AFDS)
The policy of our day school is to follow Atlanta Public Schools for closings. The AFDS was closed today and will remain closed until further notice.
Midtown Assistance Center (MAC)
MAC will remain open to serve our most vulnerable neighbors and friends. Please contact MAC to confirm their hours. Also check with MAC to see how you can help keep the Food Pantry stocked.
Resources for Families
Here is a link to a great article to help our children with the anxiety that comes from interrupting routine: https://theparentcue.org/managing-fear-and-anxiety-during-a-health-pandemic/. We will be working to provide activities that you can do at home with your children to help them stay connected to God during the pandemic.
Caring for our Neighbors
Please check on your family, neighbors, and friends. With schools closing and a lot of hourly jobs going away, children will be hungry, people will not be able to pay rent, and our elderly and homeless neighbors are at an even higher risk than usual for illness and hunger. If you know of someone in our community who is unable to buy food, please help or let us know so that we can help. We are learning to love radically, and this is the perfect opportunity to practice during this Lenten season.
An Invitation
I invite you to rest and practice Sabbath during these days. People are so busy that we are all running out of steam. Maybe, in these next few days, God is calling us to slow down, be still, and trust God. Remember, God has not given us a spirit of fear. We are people of faith and there is no need to panic. Let's use common-sense practices and the Fruit of the Spirit to move forward.
Our staff will keep you updated in the days ahead. In the meantime, be in prayer; and please, wash your hands frequently, stay home as you are able, and expect God to keep working this out!
May the grace and peace of God
be yours in abundance,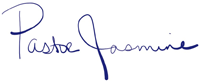 Rev. Jasmine R. Smothers
Lead Pastor, Atlanta First UMC
pastor@atlantafirstumc.org