Happy Thursday, Atlanta First Family!
I pray that you are staying well and using common-sense measures to protect yourselves and your neighbors from the flu, coronavirus, and other things that are going around. The leadership of our church and Day School are working around the clock to stay abreast of the CDC protocols and implement them as best we can to protect our community and congregation from passing along illnesses. Please remember that our under-housed and homeless neighbors are especially vulnerable, as they do not have hot water and soap to mitigate germs. If you have extra hand sanitizer or wipes, please consider getting them to the church to share or directly to homeless neighbors. This is an opportunity to put our faith into action by loving our neighbors as we love ourselves.
Right now, we are planning to hold worship and small groups as usual. We strongly urge you to stay home if you are ill or are a part of a vulnerable population. Yes, your pastor is inviting you to stay home from church if it means that you and/or our neighbors will stay well. You are invited to experience worship online via Facebook or YouTube. You can find the directions to connect here: www.AtlantaFirstUMC.org/live.
As far as worship is concerned, we will worship God in Spirit and in truth at 11:00 am in the historic Sanctuary! We will continue our series, "Radical Love," with a focus on Lavish Love! As we greet people, let's give them a holy elbow-bump. We will not have lunch together; however, we will provide to-go plates for our neighbors who rely on that meal for the week. The cost of one meal is $8.70. You can continue to donate to make these meals possible here: www.AtlantaFirstUMC.org/give. We also accept donations via CashApp ($AtlantaFirstUMC), postal mail, and in the offering plate.
In the Joy of the Gospel, Pope Francis said, "I prefer a church which is bruised, hurting and dirty because it has been out on the streets, rather than a church which is unhealthy from being confined and from clinging to its own security . . . More than by fear of going astray, my hope is that we will be moved by the fear of remaining shut up within structures which give us a false sense of security, within rules which make us harsh judges, within habits which make us feel safe, while at our door people are starving and Jesus does not tire of saying to us, 'Give them something to eat.'"
Even during this season of uncertainty, God still calls us to be loving neighbors and to take care of one another. My prayer is that you will be well. My prayer is also that we will help others be well. In body, spirit, and mind, we are called to help all people experience wellness.
Do not be afraid. Yet, this is the time to exercise our faith. Let's be the church!
I love you, and there is nothing you can do about it!
Grace and Peace,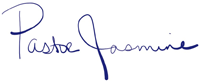 Rev. Jasmine R. Smothers
Lead Pastor, Atlanta First UMC
pastor@atlantafirstumc.org
The March & April issue of our newsletter, The Messenger, is available to read online! Please click the link below to download a pdf copy.
You can view previous issues of The Messenger online at our website, by visiting our Communication Archive at:
AtlantaFirstUMC.org/communication
Our Lenten worship series, "Reckless Love: Jesus' Call to Love our Neighbor" by Pastor Tom Berlin, will challenge our practices and beliefs around how we love our neighbors. Join us on Sunday mornings, for Sunday School studies and a worship experience all focused on how we can share God's Reckless Love with our neighbors.
You are invited to come serve on Saturday, March 21st, at our monthly Friends at the Front Door mission. We will prepare and serve sandwich lunches and bags of toiletry items to our neighbors in the city. Meet in the Atlanta First kitchen at 10 am to prepare, and then hand them out at the front doors of the church starting at noon.
We need donations of supplies to make the sandwiches and to fill the toiletry bags that we will hand out. Please Click Here to see the list and to sign up to donate supplies. Please contact Serve@AtlantaFirstUMC.org if you have any questions.
Please help us keep our homeless friends warm this winter. Bring in donations of coats, hats, gloves, scarves, socks, blankets, backpacks, duffel bags, and hand warmers, which will then be distributed to those who need them. There are collection barrels inside the Porter Place entrance of the church.
As we enter into a brand new year and a brand new decade, Bishop Sue Haupert-Johnson invites all United Methodists in the North Georgia Annual Conference to join together in a daily, disciplined reading the Gospel of Luke and the Book of Acts in 2020. This "method" will help us to be spiritually disciplined and more open to what the Holy Spirit has to say to us in 2020, as Luke and Acts both focus on the power and work of the Holy Spirit. We will read one chapter a week, and each week you will receive a reflection and questions to ponder, written by a clergy or layperson from our Annual Conference. To subscribe to receive the weekly reflections and questions e-mail, please visit: www.ngumc.org/subscribe
Weekly Readings for March:
March 8th: Luke 11
March 15th: Luke 12
March 22nd: Luke 13
March 29th: Luke 14

Check out Bishop Sue's Podcast: pod.link/1485744526
Let's grow together in small group studies! You are invited to participate in any of our Sunday School classes, Sunday mornings at 9:45 am. Our current list of classes are:
Reckless Love Study - During the season of Lent, our adult Sunday School classes are studying a curriculum that ties directly into our "Reckless Love" worship series. Let's grow together and learn how to love God, our neighbors and each other recklessly!
The Currents Class - Meets on Sunday at 9:45 am for coffee followed by the lesson at 10 am. The material currently being used is Cokesbury Adult Bible Studies. The class is open to all ages, so come and join us! The Currents Class meets in the classroom at the end of the hall on the third floor of the Education building.
The Saint Andrew Class - Meets at 9:45 am Sunday mornings and starts with refreshments, singing, and a devotional time. This class is great for those who enjoy fellowship and regular emphasis on important matters through a biblical perspective. The St. Andrew Class regularly supports the Women's Shelter and most of its members are active in other mission ministries of our congregation. The class meets in Room 318 on the upper floor of the Education Building and follow the Adult Bible Study Series.
Our Children's Ministry - Serves children by helping them to dive deep into God's Word, so they can grow in relationships with God and others. We use devotionals, illustrations, puzzles, trivia, and crafts to help keep kids engaged and to capture inquisitive young minds. The children's Sunday school room is located on the third floor of the education building. We meet from 9:45 am to noon on Sunday mornings. Our staffed Nursery is located on the main floor hallway, between the Fellowship Hall and the Sanctuary, and is open from 9:30 am - 12:30 pm on Sunday mornings.
Members of our staff and our Hospitality Team can help you find any of the class rooms. For more details about our small group study opportunities, please contact Grow@AtlantaFirstUMC.org.
Children of all ages are invited to participate in our annual Easter Egg Hunt! Jointly hosted by the Atlanta First Day Shool and Atlanta First UMC, this will be a fun afternoon for the children, as they hunt for brightly colored eggs filled with treats in the Atlanta First Day School's playground. The Easter Egg Hunt takes place on Friday, March 27th at 3 pm.
If your child is not enrolled at AFDS and wishes to participate, please call the Day School office to RSVP and let us know you will attend: (404) 333-0270.
We are requesting donations of bags of small, individually wrapped, peanut-free candy to stuff into the eggs. Please bring these donations to the Church or Day School offices by Friday, March 20th. We also need volunteers to help stuff the eggs on Wednesday, March 25th at 10 am in the Fellowship Hall.
Our LIFE Yoga classes meet every Wednesday evening at 5 pm (beginners) and 6 pm (all levels)! Both classes meet in the Fellowship Hall.
These free classes are open to all levels. Modifications are offered to ensure everyone can practice safely and effectively. If you can breathe, you can do yoga. You don't have to be thin or flexible or strong. Yoga is for everyone and every body!
Come spend a few hours shooting hoops in our gym on Wednesday nights, 5:45 to 8 pm. You can blow off some steam, get some exercise, make new friends, and when you're done the drive home will be easier because rush hour will be over.